Toby (lovely neutered Siberian mix)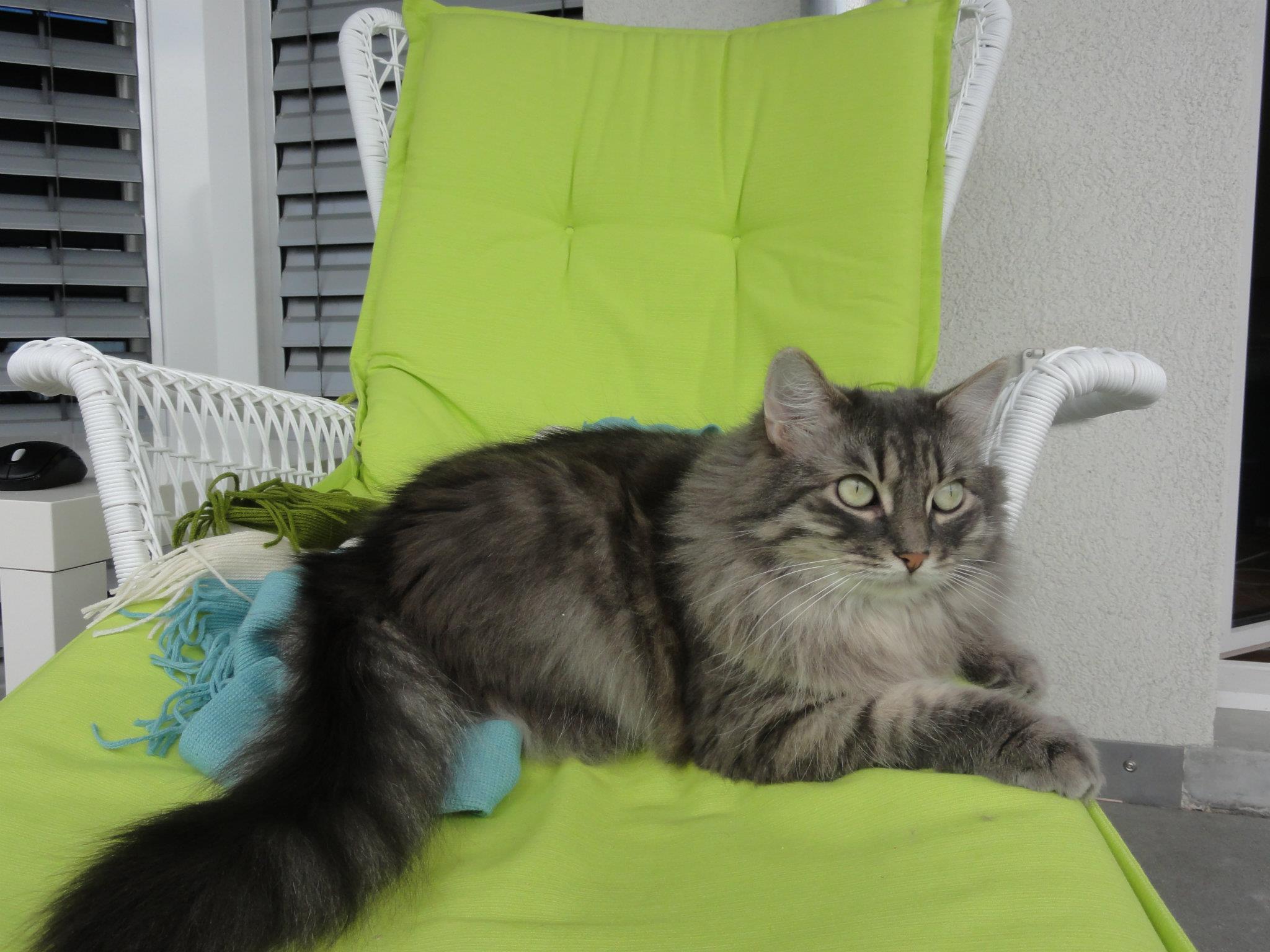 Borned on 27th September 2008, Toby is the first cat that joined us. She is a Siberian cat not pure breed. At that time we did not know much about cats. All I know is that I wanted a fluffy cat that enjoys hugs and kisses and according to an article that I read about different cat temperaments, the Siberian breed of cat seemed to be the one. Unfortunately we could not find a breeder for Siberian cats so on a goggle search we found some regular advertisements of different cats.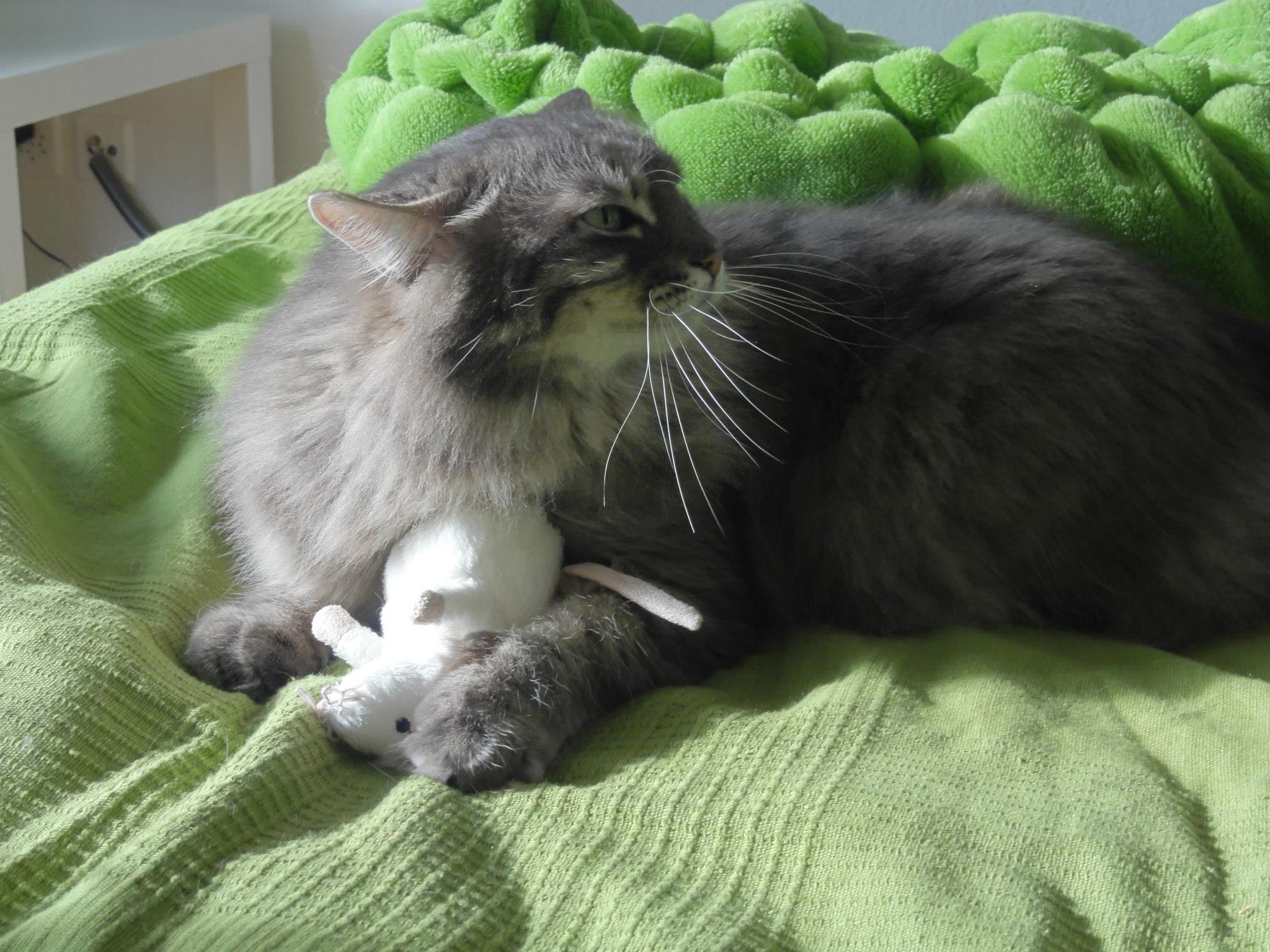 My attention was drawn by a sweet fluffy fur ball of Siberian breed. I was so happy that I have found the cat that I wanted and I have called immediately to ask for details. We wanted a male and we were assured that she is a pure breed and healthy cat. The breeder said the cat has all vaccines and the health book and we do not need anything else, so we went to meet him and take our future Siberian cat at home.
It was love at first sight.
Next day we observed that our male cat is actually female. The person who sold it to us said it was a mistake and the female was given to us and the male to somebody else who wanted a female. We said we keep her and we do not want to change her because we are already in love with her.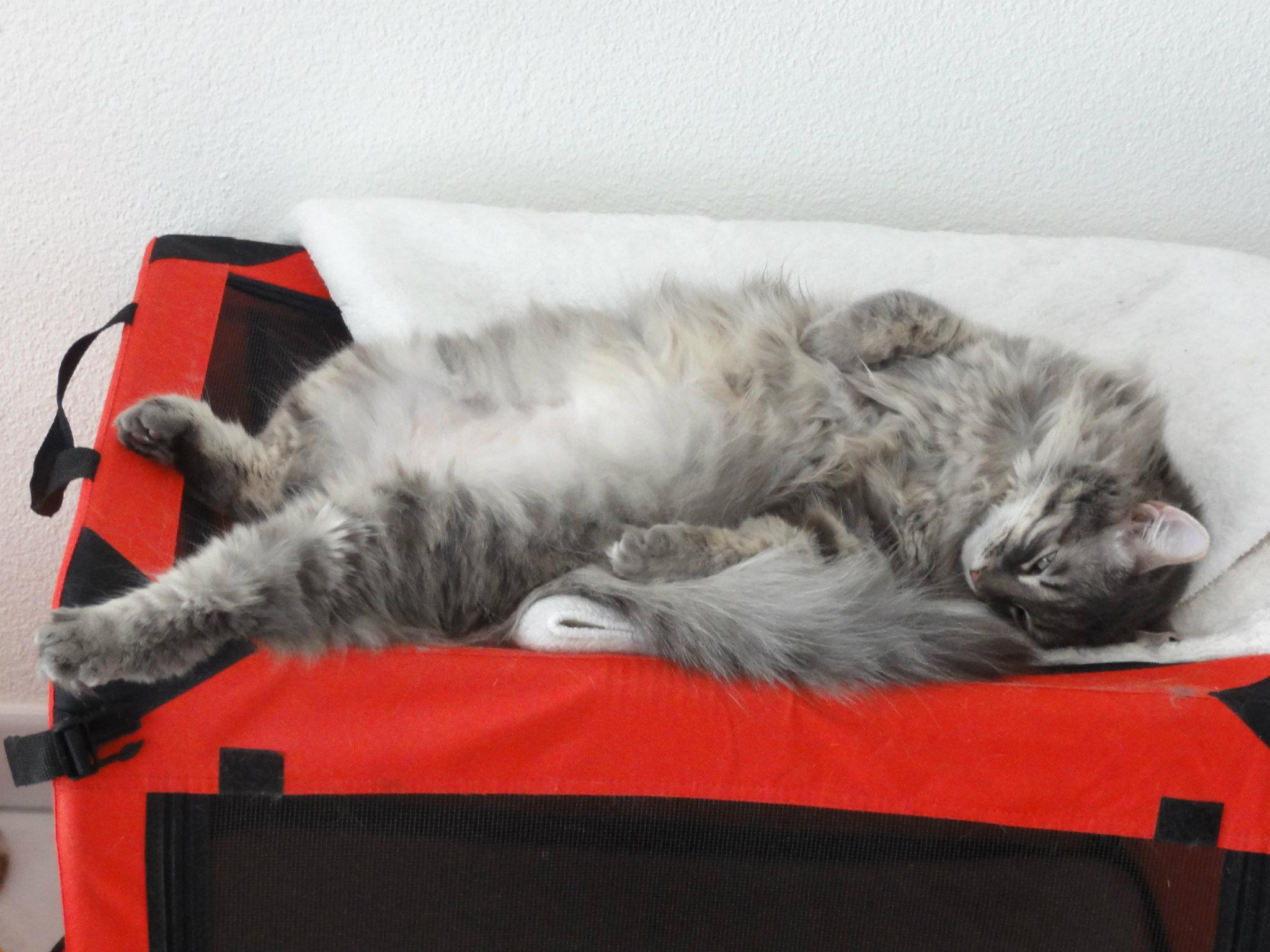 In the 3rd day at home, our Toby (we kept the name initially chosen for our male kitten) started not to feel so well. She was not eating, not drinking, not playing. The last vaccine was missing and the doctor said no vaccine can be done for her as she shows signs of flu.
After 2 visits we changed the vet as Toby was not getting better and we felt we are running out of time.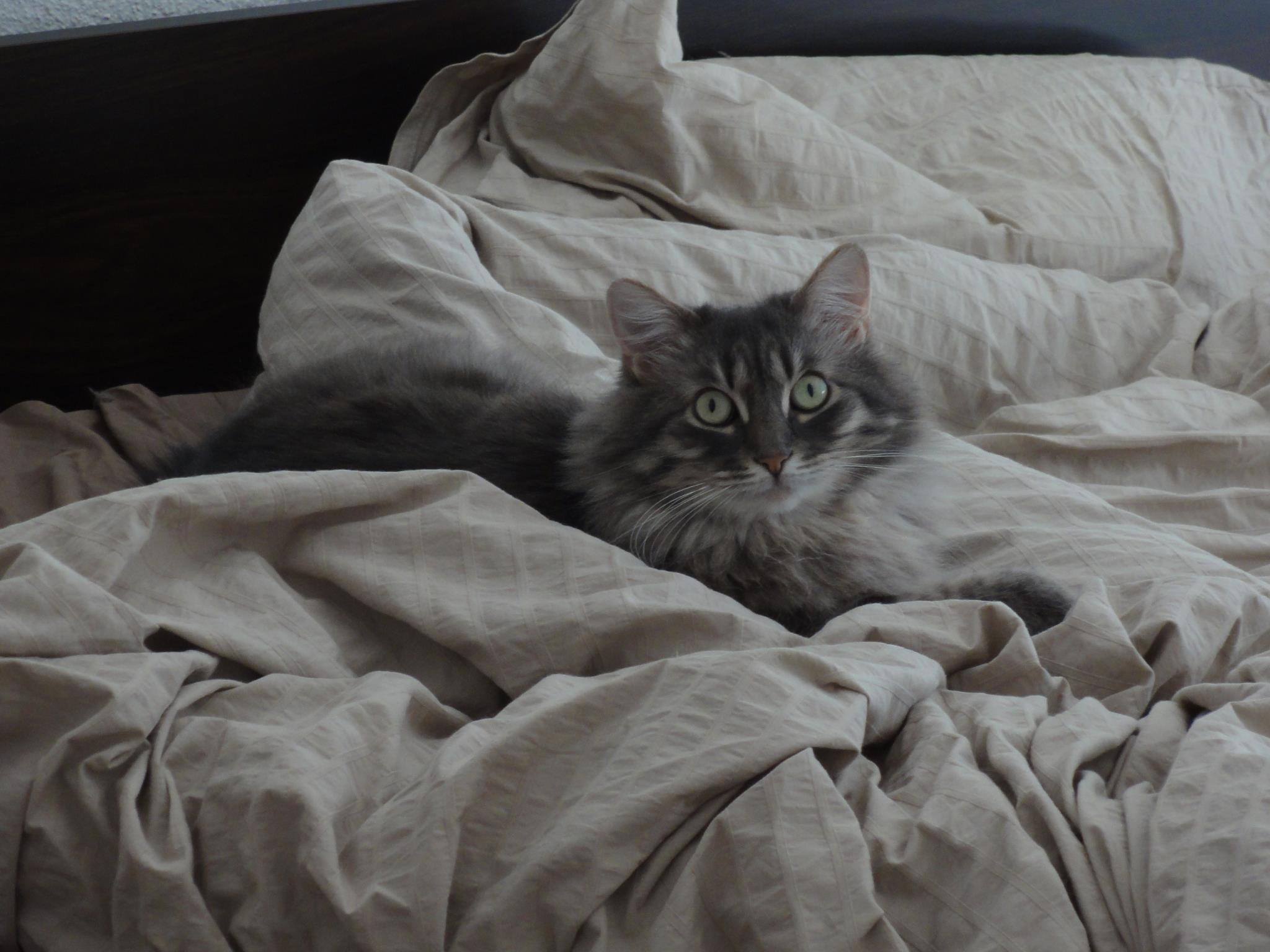 The new vet did the impossible and saved her from death after 3 weeks of tough treatment, each morning and evening 3 injections and perfusion. The ones who sold us Toby were impossible to be found. The costs of all treatment went 3 times higher that her initial price and that was the time when we understood and learned more about what means a pure breed cat and that our little kitten was actually bought from cat plantation...poor kitten and poor us who had to see her going through all these.
Now she is doing very well and since that moment she was never again ill or sensitive even though the vet told us it is possible that all that medicine will have adverse effects on her little body.
Olaf - SC Olaf z Krainy Asgardu*PL (lovely norwegian forest cat male)
After the experience with Toby, we started to think about having a second cat to be friend to our Toby and to spend the time together while we are at work.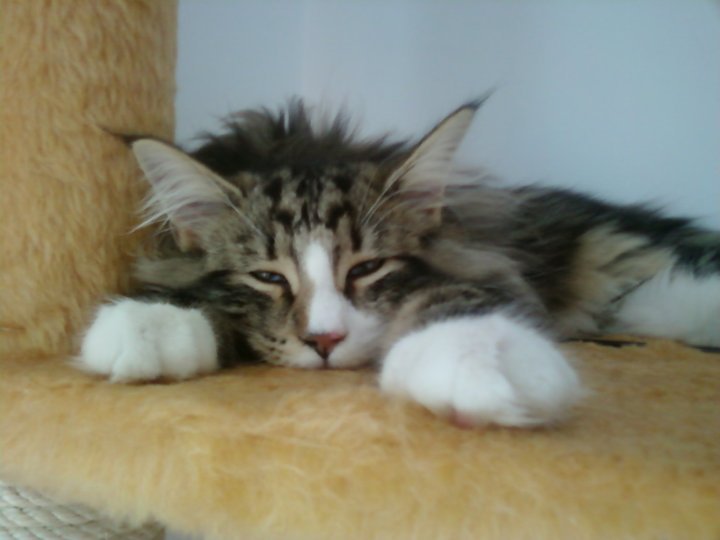 This time, we knew it would be different. It would be for sure a pure breed cat from a responsible breeder. As we still had no Siberian breeders in our country we started to look for other breeds with semi-long hair and this is how we found the Norwegian Forest breed.
A new search for a male started, but this time a Norwegian Forest breed. I have learnt how to read pedigrees of kittens and search photos and I was looking for a male kitten to steal my heart.
And I found him. In Poland, in cattery z Krainy Asgardu*PL. He was the most beautiful kitten I have ever seen and I was very lucky that his breeder chosen us to be his family (I will be always grateful for this).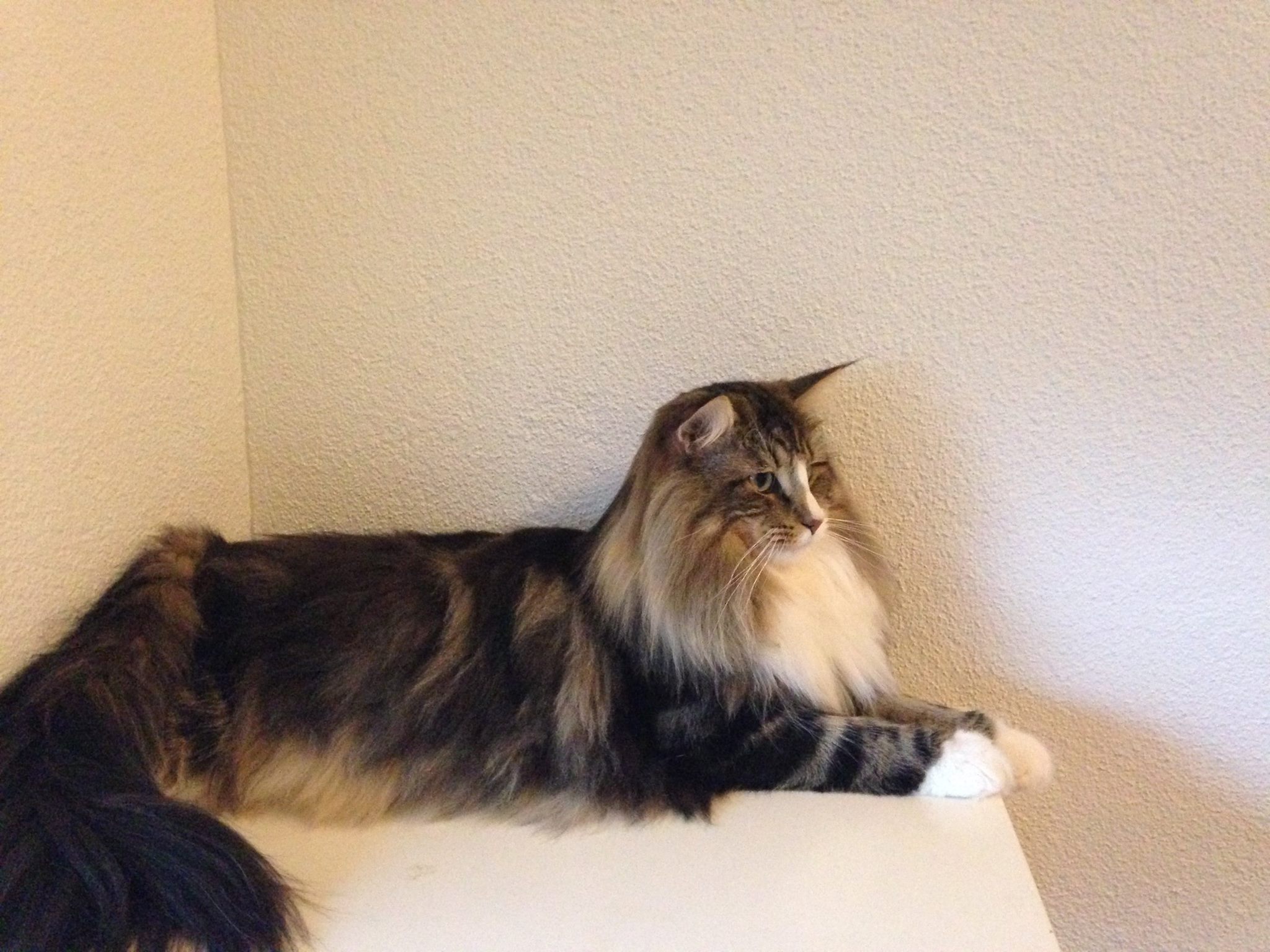 As I love cats very much and I visited cat shows in my country very often. I wanted to do it again, but this time, on the other side of the cage, with Olaf . I thought Olaf is really a great cat and I wanted to share this with all the visitors of the cat shows, because I also had a lot of joy seeing so many beautiful cats when I came as visitor. I felt that I have to contribute in a way to this beautiful events.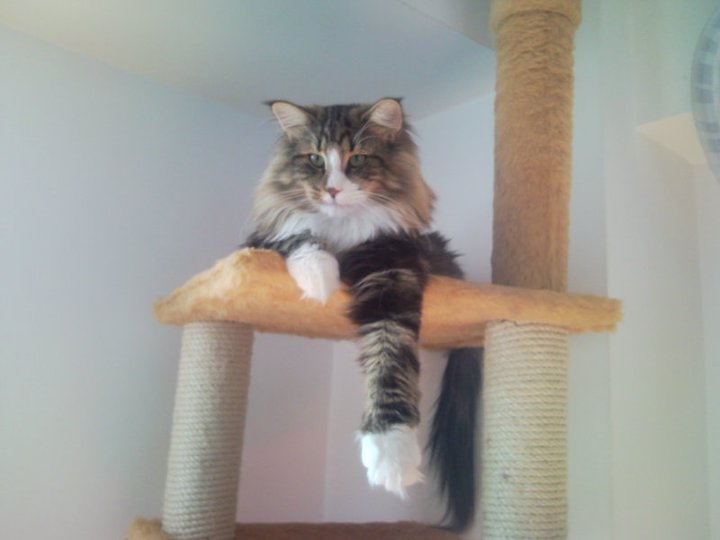 Olaf has developed so great and we were very happy to see him getting more and more beautiful as an adult male and having success at his cat shows.
Olaf has all the qualities, he is beautiful, he is calm and patient especially with me experiencing all kind of things with his lovely long coat, he is intelligent and kind and...did I mention how beautiful he is?
Olaf is born on 3rd October 2009.
Piciu' - CAP Shedoros Uno Giganto*DE (lovely maine coon castrated male)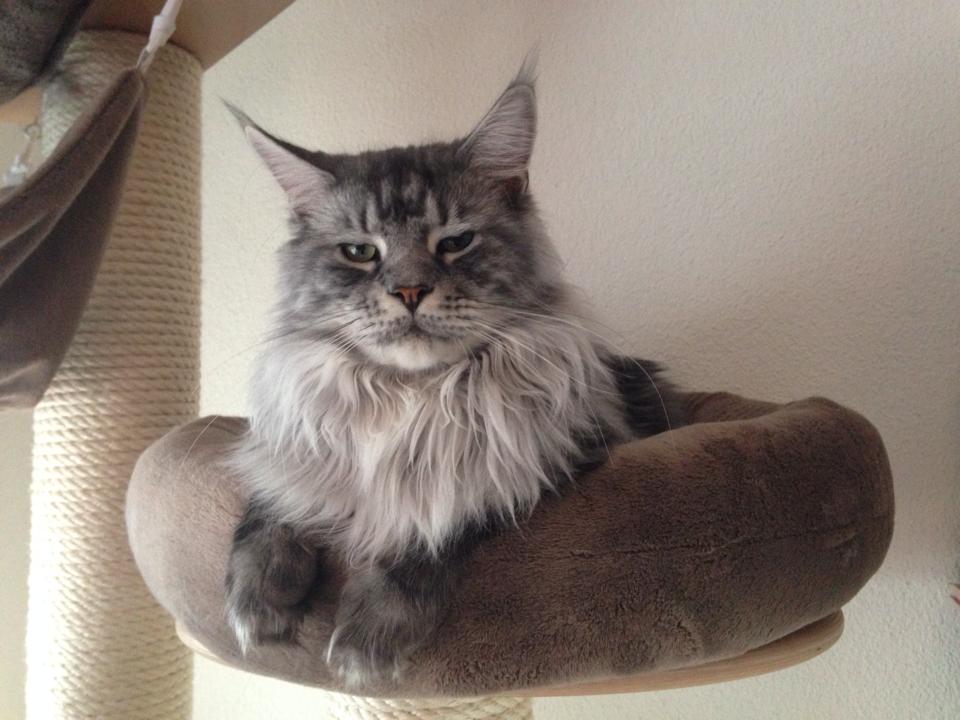 On his real name DE*Shedoros Uno Giganto, Piciu' is born on 4th May 2012. As our initial plans did not match and Toby was not friendly with Olaf, we needed to search for a new cat to be friend of our Olaf, as he needed it desperately.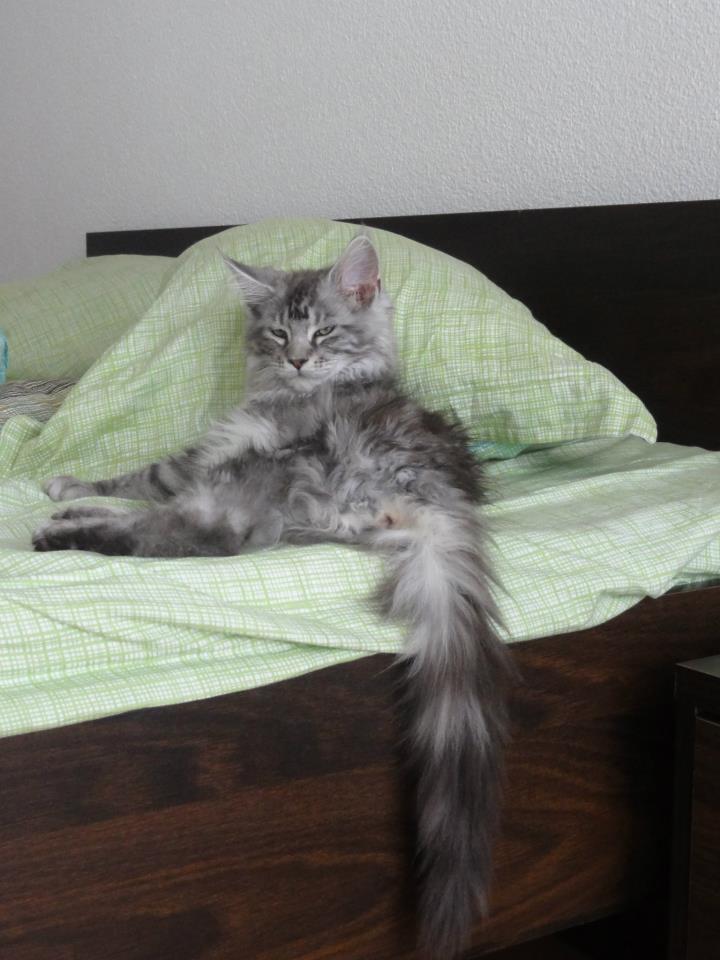 This time we have chosen a Maine Coon from Germany. We love big cats semi-long hair, so I was very happy when I found out that he is available and we can take him. I thank again to Dorothea, his breeder for trusting us to give such a sweetheart.
I was charmed immediately by his silver coat and green eyes, looking exactly like his beautiful mother. He loved Olaf from the moment he saw him. We could have not found a better friend for him. Piciu was following Olaf everywhere and imitating him in his behaviour. We have been to several cat shows and he was very appreciated by the judges. Because he does not enjoy so much the cats hows we are not taking him very often.

Later on, when our 4th cat joined the cat family, we have decided to neuter him because he seemed very attracted about our new Norwegian Forest cat female :)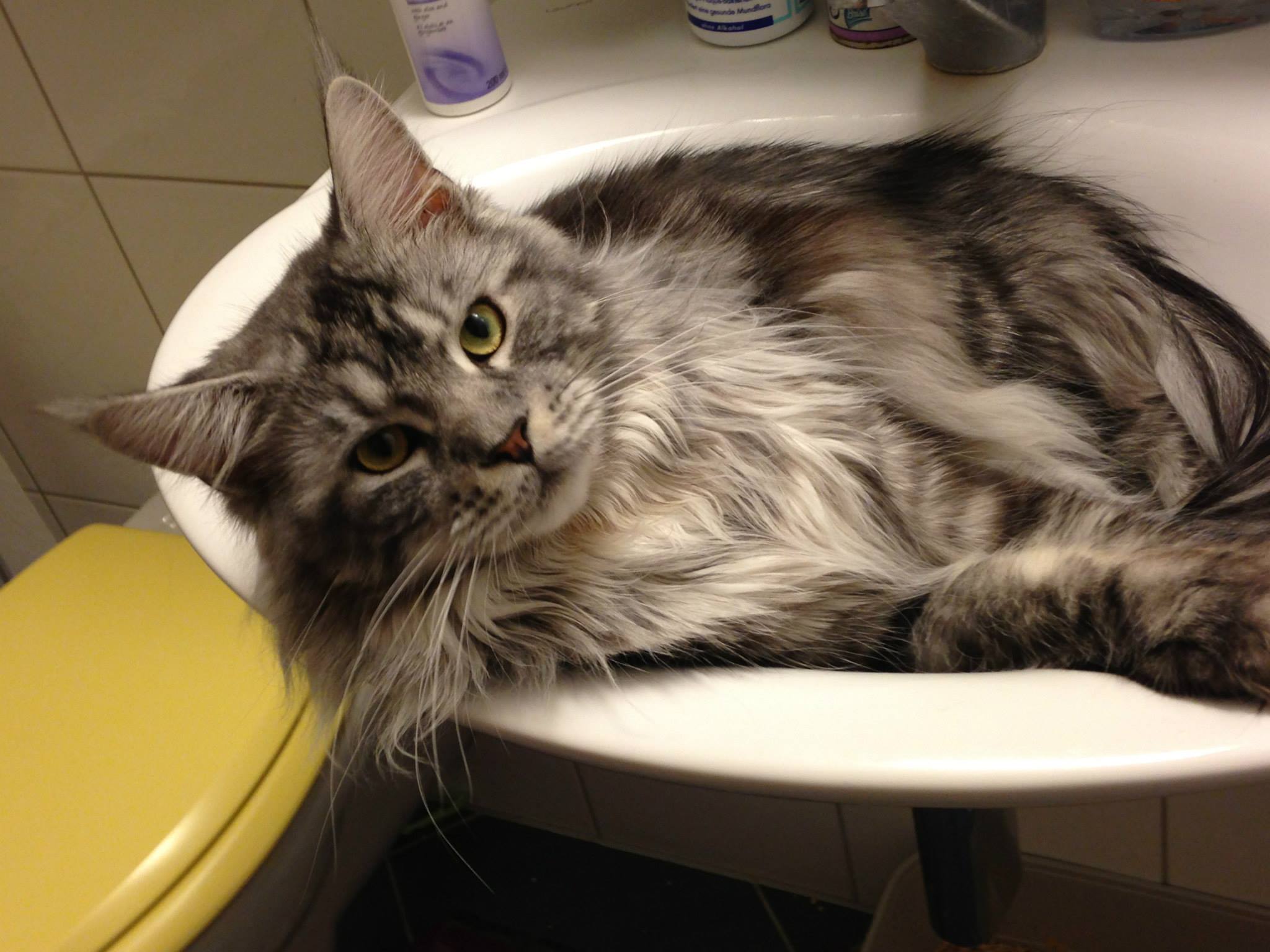 He has a very curious character and is a dominant cat in the house. Luckily he likes a lot the kittens and he is a good friend with them as well, contributing with success to their education.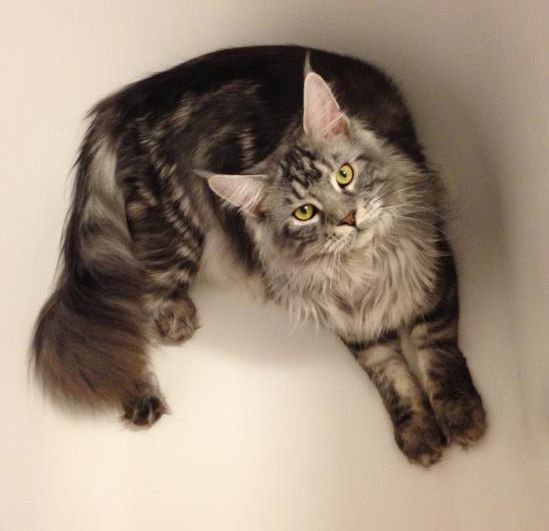 He will let us hug and kiss him only when he is asking for it (usually this is part of his daily routine), he cleans the food place after he is eats, and he is always returning back the massage that we give to him. He is really a sweetheart.
He transformed with time into a wonderful maine coon male, with a fantastic silver silky coat and he is only 4 years old. He still has time to develop even more and charm us every moment.
Xara - IC Xara de Chatssel*CH (lovely norwegian forest cat female)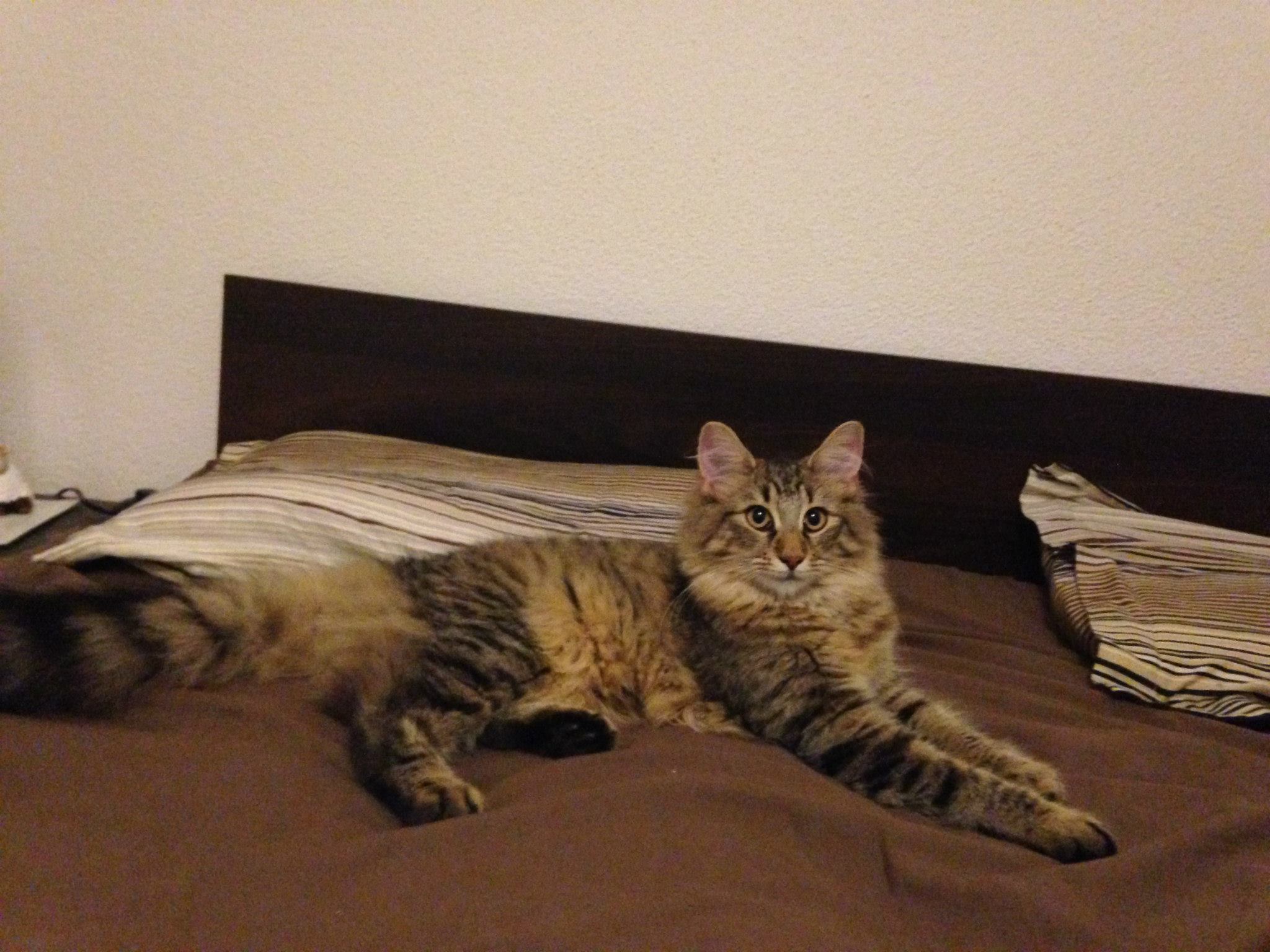 Xara de Chatssel*CH is our 4th cat and she is from Switzerland. She is a kitten from a litter where Olaf was the father and we thought Xara is very beautiful, has good genes and wanted to keep a kitten.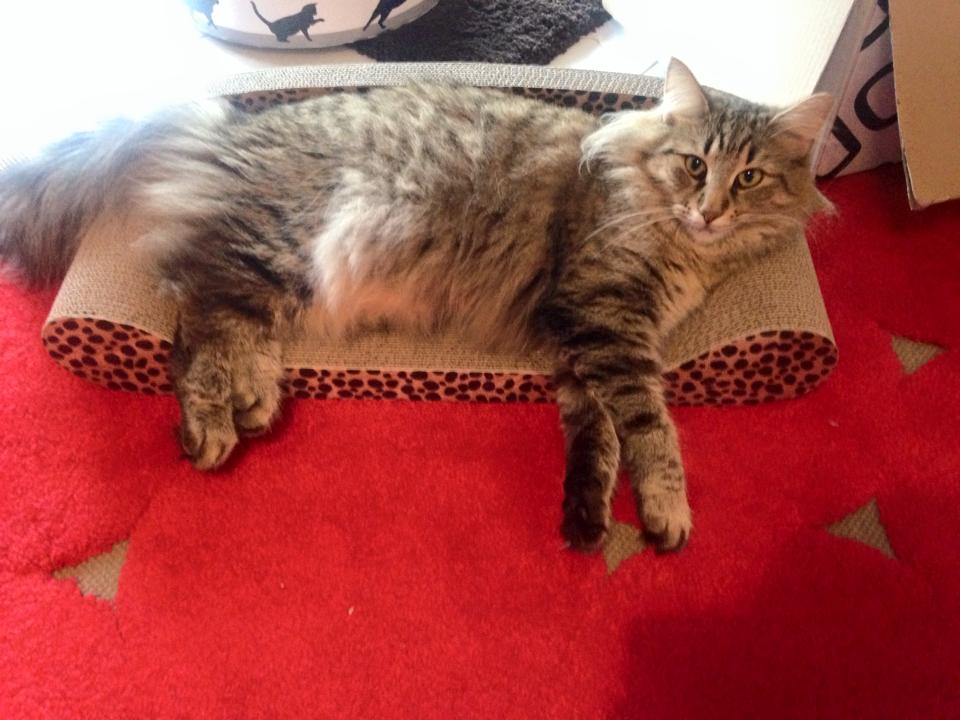 We are very happy to have her, together with the friendship of her breeder Isabelle, whom I met at the first cat show in Switzerland :)
Xara is really a great cat for the cat shows, great temperament, good looking :) the best in our eyes of course.
She is also the one to fulfil my dream of starting a cattery and having first kittens of Norwegian Forest cats, because I want to give back to other people at least as many good moments and happiness as I had with my dear cats.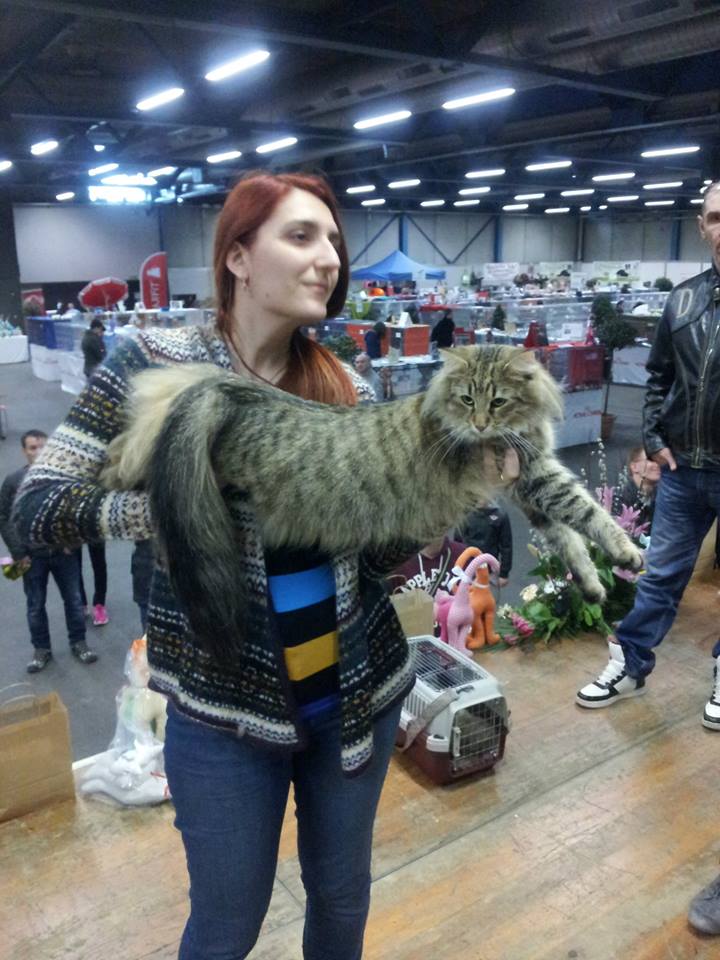 With the kittens, we got the chance to see in Xara some qualities unknown until now.
She is a fantastic mother, takes very well care of her kittens. When she observed one of the kittens is in trouble with his weight, she dedicated more time to this little one without completely ignore the other kittens. She knew exactly what to do and when, we just had to support her and provide the best living conditions and food. She fully trusted us to handle her kittens but never stopped looking after them.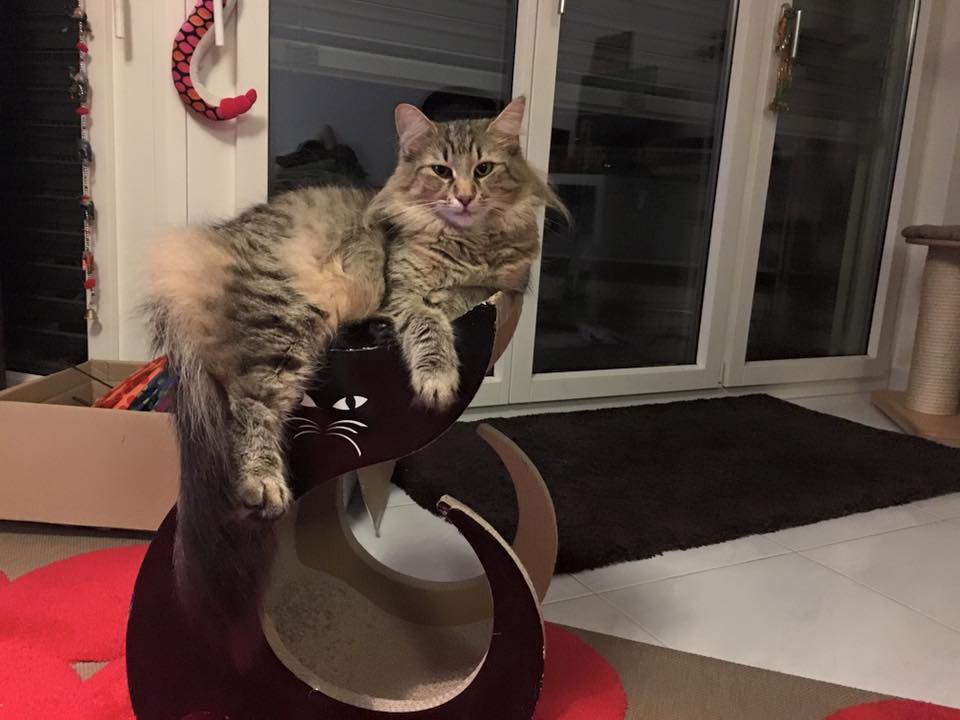 She is born on 30th March 2013. I think she is still developing her Norwegian Forest cat physical characteristics as she is a big sized cat, like her father, and takes more time to show all her qualities.
We are very happy that all our cats live together in harmony and they are healthy and happy, as every cat shall be!